Mr. Mitsugu Saito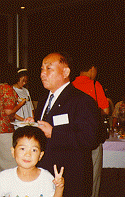 At the seminar party, '93, which he hosted
---
Former Mayor of Goshiki-cho. After experience as a town councilman and deputy mayor, he was elected town mayor in July 1979, and consecutively served his fouth term until July 1995. He had been consistently building a progressive health and culture-oriented town, during his office days, for the benefit of local residents.

In 1985 he established the ``Goshiki-cho Kenmin Kenko Mura'' health center that three years later introduced an IC health card system to store individual health and medical care information, the first system of its kind in Japan.

In April 1994, the town began operation of a CATV system with interactive capabilities. This cutting edge system is now being used by doctors and nurses visiting the homes of elderly patients to send IC health card information and receive video images from a central clinic for use in medical treatment.

Wellness Goshiki Park which opened in April 1995 now serve as a center for cultural exchange among people across Japan and the world, in honor of the historical figure Takataya Kahei, a man from Goshiki known for developing a new sea trading route via Japan's northern territories in the late 18th century. The third FOCAS seminar was held in this newly opened park in summer 1995.

He enjoys sports and travel.
---


Network University Homepage